The 14 Best Productivity Apps for iPhone
If you're an iPhone user trying to improve your productivity, there probably is an app for that. Or many.
In today's fast-paced world, being productive has never been more important to stay on track.
From meetings to endless to-do lists and personal matters, it's easy to feel overwhelmed, stressed, unproductive, and more willing to procrastinate. Luckily for us, technology is here once again to save the day.
Boost your productivity at work with little effort
Track your time to identify low-value tasks and focus on what matters the most
The iPhone is an incredibly versatile device that can help you increase your productivity and streamline your daily tasks if you use it correctly.
With the proper apps, you can stay organized, manage your time efficiently, and do more in less time. Sounds like a dream, right? So, if you're an IOS user looking to power up your productivity, keep scrolling!
In this blog post, we'll look at the 14 best productivity apps for iPhone.
The best 14 productivity apps for iPhone
1. Timeular – For productivity and time tracking
Timeular is an intuitive and easy-to-use time tracking and productivity tracker software, perfect for iOS users who want to stay on top of their time management. With a 4.6/5 rating on the App Store, the Timeular app is one of the easiest, most effortless, and most accurate ways to track your time.
Some of the top features of Timeular include:
Intuitive and beautiful graphics to visualize and analyze time tracked.
Automatic time tracking
Option to manually edit time entries, add new ones, or delete them.
Option to add notes to each time entry.
Synchronization across devices, such as iPhone and Mac.
Integrations with +3000 apps.
Tracking and managing any leave type: paid time off, sick days, time off in lieu, and many more.
Integrate Timeular with other apps you're using with Zapier or API.
Try the Timeular app for free for 30 days and then subscribe to different user plans depending on your needs, starting from 6.30€ / month, billed annually.
Track your time on iPhone with Timeular
Looking for the most effortless and accurate time tracking solution?
2. Todoist – For task management
With a 4.8/5 rate on the App Store, it's considered the world's number 1 task manager and to-do list app on the market. It's also one of the top apps for Mac users who want to increase productivity.
Here are a few features you can expect from this tool:
You can sync all your Apple devices, such as your iPhone, iPad, and Apple Watch, to your desktop.
You can prioritize your most important tasks of the day and add favorites and reminders so you never miss anything again.
You can share projects with others, whether a business project or your grocery list.
With Todoist, you have a free plan, but you also can upgrade to Pro or Business, starting from 4€ per month, billed annually.
Read also: Todoist time tracking integration
3. Evernote – For notetaking
With a 4.4/5 rating on the App Store, Evernote is a note-taking app that lets you capture ideas, notes, and to-do lists whenever you want to.
Here are a few reasons why you will totally love Evernote:
You can write, collect, and capture ideas like searchable notes, notebooks, and to-do lists.
You can add different types of content to your notes in other formats, such as text, PDFs, docs, photos, audio, and more.
Sync your notes and notebooks automatically across all your Apple devices.
Connect Evernote and Google Calendar to bring your schedule and your notes together.
With Evernote, you get three available plans, the simpler one is free, and then you have the Premium and the Business plan, starting from $7.99.
4. Asana – For project-management
With a 4.7/5 rating on the App Store, Asana is the ideal productivity and project management software for teams working on larger projects and offers a free plan for up to 15 people to collaborate on the IOS platform.
Here are some of the features most appreciated by users:
Set up different projects to unite your team in one shared space.
Asana includes integrations with Dropbox, Google Drive, Box, Adobe Creative Cloud, Slack, Zoom, and more.
The work graph illustrates each organizational task, project, and goal.
Custom Fields to personalize task management.
As for pricing, you have three different plans to choose from. The basic one is free, but you can update to Premium or Business at any moment, starting at 10.99€ per user per month billed annually.
Turn time tracking into a task so easy that your team will even enjoy it
5. Forest – For focus-boosting
With a 4.8/5 rating on the App Store, Forest is an app that gamifies productivity. Here's how: with Forest, you plant a virtual tree that grows as long as you stay focused on your task. If you leave the app, the tree dies.
Here are a few incredible highlights from Forest:
Earn rewards and unlock more than 90 new tree species.
Share your own forest and compete with friends and users around the world.
Plant trees along with friends and family.
Unlock achievements and earn extra rewards.
Browse your weekly, monthly, and even yearly big forests.
As for pricing and conditions, the Forest app is compatible with iPhone, iPad, and Apple Watch and can be used across these IOS devices with a one-time purchase. The total cost of the app is $3.99.
Read the article: How to Improve Focus and Concentration
6. IFTTT – For work efficiency
With the IFTTT (If This Then That) app, you can create automated tasks between your favorite apps and devices. With a 4.6/5 rate in the App Store, IFTTT allows you to connect different apps and devices to work synergically.
For instance, you can create a task that automatically saves your Instagram photos to Dropbox, remind a Slack channel about an upcoming meeting, or send a text message to your family when you leave work.
If you want to automate repetitive tasks to save time, IFTTT is the perfect app for you! Here are some of its best features:
Control every aspect of your smart home using Siri, Alexa, or Google Assistant.
Add an iOS Reminder with your voice assistant.
Back up files, iOS photos, and iOS contacts to cloud-storage solutions, such as Dropbox or Google Drive.
Stay safe with automated home security alerts.
Use location to automatically trigger your Hue lights and Spotify playlist.
Streamline social media by cross-posting to multiple platforms like Twitter, Instagram, Facebook, etc.
Integrate with your iPhone and Apple Watch's Health app to track your health.
IFTTT has three available pricing plans, the first one for free, and then you can choose between the Pro or Pro+, depending on your needs, starting from 2,50€/month.
Which tasks take up most of your time?
Start tracking your time on iPhone to identify the most time-consuming tasks
Read: Ways to Improve Business Efficiency
7. MindMeister – For mind mapping
MindMeister is a collaborative mind-mapping app with a 4.4/5 rating on the App Store. Mind mapping starts with a main idea in the center of your mind map.
With MindMeister, you can create unlimited subtopics and explore your thoughts, color coding for clarity and style.
Here are some of the best features you can find in MindMeister:
Seamlessly sync maps and folders with your free online account.
Multi-touch support for drag & drop, zoom, etc.
View and edit notes, links, tasks, and attachments on ideas.
Real-time collaboration.
Add files and images to topics.
Export maps in PDF and PNG format.
When it comes to pricing, MindMeister has four pricing plans, the Basic one for free, the Personal, the Pro, and the Business starting from €5.99/month.
8. Habitify – For creating habits
If you struggle to develop habits that stick to your routine, Habitify is the perfect app. Rated with a 4.4/5 on the App Store, Habitify keeps things simple by allowing you to set up goals, receive cues and reminders to perform a habit and visualize your progress over time.
Ready to make the most of every minute?
Track your time to identify low-value tasks and focus on what matters the most
If you get Habitify you can expect some of the following features:
Habit management: create, organize, complete, and skip habits.
Create customizable habits and a system of intelligent reminders.
Get detailed tracking of completion progress: trend, completion rate, calendar, daily average, and total.
Sync all your data across your Apple devices including iPhone, iPad, Apple Watch, and Mac.
As for pricing, Habitify is free to download on all platforms. Once you have purchased on one platform, you're Premium on all other platforms without purchasing again. 1 month: $4.99; 12 months $34.99; lifetime: $64.99.
9. Google Docs – For team collaboration
Google Docs is an already very well-known app, perfect for team collaboration. Rated with 4.8/5, Google Docs is also the number 9 app for productivity on the App Store.
With Google Docs, you get many unique features to help all teams work more efficiently together.
Here are some of the best features you can expect from Google Docs:
Work together in real-time and share documents with your team.
Edit, comment, and add action items in real-time.
Always keep changes or previous versions of your document with version history.
Get things done, even on the go, with offline mode.
Open a variety of files, including Microsoft Word files, right in Google Docs.
As for pricing, Google Docs comes included in Google Workspace, which includes many other amazing apps such as Google Sheets, Gmail, Google Drive, Google Meet, Google Calendar, and many more.
There are four pricing plans, Business Starter, Business Standard, Business Plus, and Enterprise, starting from $6 per user/month, 1-year commitment.
10. Microsoft Outlook – For email management
Rated 4.8/5 in the App Store, Microsoft Outlook is one of the best email and calendar management software that can significantly improve productivity.
It's great for email management, calendar management, and task management.
With Microsoft Outlook, you can expect:
An intelligent inbox: Outlook helps you sort between messages you need to act on immediately and everything else.
Swipe to quickly schedule, delete, and archive messages.
Share your meeting availability with a tap and easily find times to meet with others.
Find everything you're looking for easily, including files, contacts, and upcoming trips.
View and attach any file from your email, OneDrive, Dropbox, and more, without downloading them to your iPhone.
To make an in-app purchase of a Microsoft 365 Family or Personal subscription. Subscriptions begin at $6.99 monthly in the US and can vary by region.
Read also: Microsoft Outlook time tracking integration
11. Notion – For all-in-one workspace
Notion is one of the best digital planners you can download. This great all-in-one productivity app is rated 3.8/5 in the App Store.
Notion will help you stay organized and focused on your work as you customize your workspace, manage all your tasks, take notes whenever necessary, and collaborate with your team members in real time. This is why Notion is one of the best team productivity tools.
With Notion you can expect to:
Write, plan, and get organized in just one place.
Never hit a storage limit; you can add as much content as you want.
Drag and drop to craft the dashboard, website, doc, or system you need.
Easily share pages, add comments, and @mention teammates in real-time.
Pick up on the desktop where you left off on mobile.
As for pricing, you can choose between 4 different price plans. The simpler one is free, but if you wish to get more features, you can choose between the Plus (most popular) for $8 per user/month billed annually, the Business for $15 per user/month billed annually, or the Enterprise where you must request a quote.
TIP: Get to know the greatest Notion time tracker.
12. Microsoft Teams – For communication
Rated 4.8/5 in the App Store, Teams is a team communication app that can be used for team communication, file sharing, project management, and more.
Microsoft Teams is a great communication tool, with chat, video conferencing, and voice calls to help you stay connected and communicate quickly and efficiently.
You can get endless amazing features from Teams, from connecting to people to accomplishing plans and projects. Here are a few:
Meet securely with your teammates at work or with family and friends.
Work closely and collaborate by keeping conversations organized by specific topics and projects with teams and channels.
Video or audio call anyone directly in Teams or instantly convert a group chat to a call.
Send photos and videos in chats to share crucial info quickly and easily.
Use task lists to stay on top of projects and plans – assign tasks, set due dates, and cross off items to keep everyone on the same page.
Regarding pricing, you have three available plans for Teams, the most used at $4 per user/month. This price is for the US; it can vary depending on your country.
Read also: Microsoft Teams time tracking integration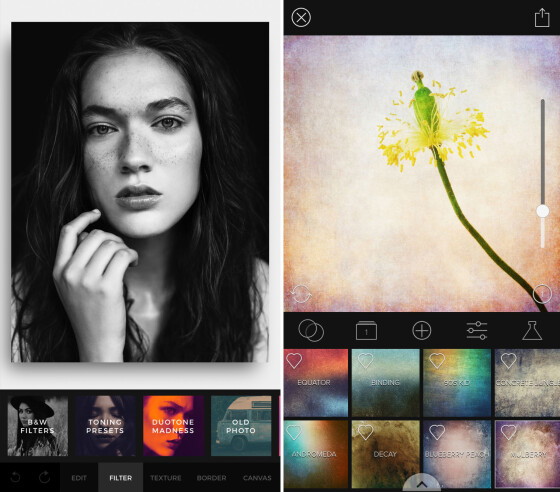 13. VSCO – For image editing and collaboration
Rated with 4.7/5 in the App Store, VSCO is not the most apparent app for productivity.
VSCO has a variety of filters and editing tools that can help you quickly and easily edit your photos. This can save you time compared to more complex photo editing software.
How VSCO boost your productivity:
Inspiration: VSCO is also a social media platform, meaning you can follow other users and be inspired by their photos, and get new ideas for your projects.
Organization: VSCO allows you to organize your photos by creating collections or albums so you know where everything is.
Remote Collaboration: a collaboration feature called "Grid" allows you to invite other users to collaborate on a shared photo album. This can be a helpful tool for remote team collaboration if you work remotely.
As for pricing, start your VSCO membership with a free 7-day trial. Once the trial is over, you'll be charged an annual subscription fee.
14. Spotify – For music that increases your focus
Rated with 4.8/5, Spotify is the number 1 music app in the App Store. Even though it's known for being a music streaming device, Spotify can also boost your productivity in a few ways, such as:
Listening to music can increase your productivity. Spotify has a variety of playlists designed explicitly for many circumstances, such as concentration, studying, and productivity.
You probably didn't know this, but Spotify integrates with other productivity apps, such as Trello, Asana, and Todoist. This means you can use Spotify alongside other productivity tools you already use.
As for pricing, Spotify has four price plans of your choice. You can get the Individual, Duo, Family, or Student plan starting from $9.99/month. Every single plan has a 1-month free trial.
How to choose the best productivity app for iPhone?
Choosing the perfect productivity apps for your iPhone can be overwhelming, given the crazy number of options available in the App Store.
The apps we just mentioned are some examples of the best productivity apps you can get for iPhone. If you're struggling to find the perfect one that suits your needs, here are some tips to help you choose:
Identify your needs: First, identify your tasks and try to understand what kind of app could help you do them efficiently. For instance, if you need to manage your tasks and projects, you may want to look for a task management app.
Look for compatibility: if you're looking for an app for your iPhone, make sure it's compatible with your macOS version. You will have all this information in the app's description on the App Store. Also, make sure you have integrations in mind. If you usually use Google tools such as Google Drive or Dropbox, look for apps that integrate with them effortlessly.
Check reviews: checking ratings and reviews is always a great idea before getting anything. Get on the App Store and check the reviews and ratings to understand how well it performs and whether it's worth your time and money.
Think about costs: before getting an app, confirm you are fully informed about price, trial time, and overall conditions to ensure it's within your budget.
Conclusion
With the constant-growing number of productivity apps available for iPhone on the App Store, there are now more options to help you stay organized, focused, efficient, and productive.
From task management to time tracking and note-taking to mind mapping, there is an app for almost everyone's needs.
The 15 apps we mentioned above are some of the bests in their respective categories, and they can all help you improve your productivity and achieve your ultimate goals. So, take time to do your research and really understand what works better for you!
By incorporating these apps into your daily routine, you can optimize your time and work processes, allowing you to focus on what really matters and become more efficient!
You might be interested in: